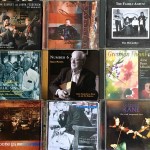 Chas Roth an tSaoil i rith na seachtaine seo, The wheel of life turned a little this last week & Ben Lennon, who featured in last week's prog, slipped away from us. Beannacht Dé leis. Mar sin mionn téama an chláir anocht- clanna ceolmhara. And that is why this week's little them is some families of music.
Logs/lists for 1011 here
Cláracha atá imithe ansa thíos + craoladh beo ar-líne. Previous prgs and live broadcasting online via below link RnaG/RTE eolas agus archives faoin gclár/info and archives re prog.